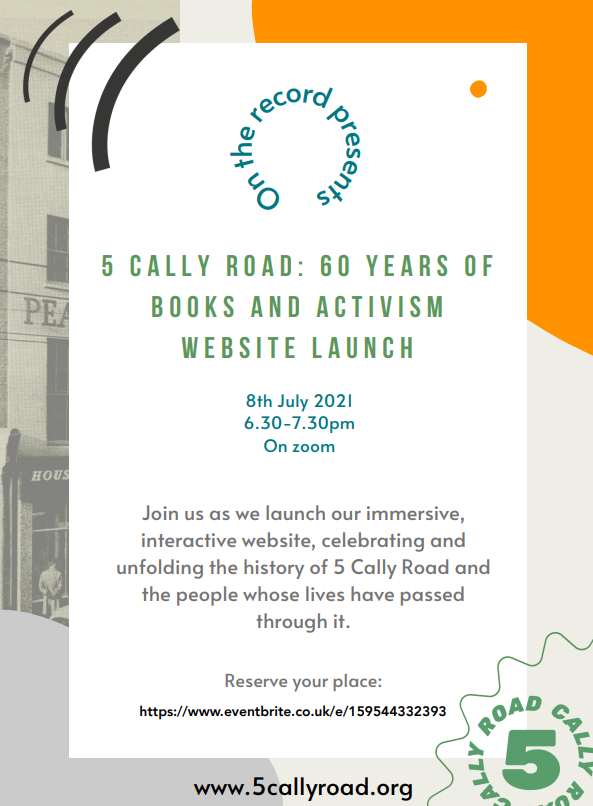 On the 8th of July, On the Record will launch an interactive website, celebrating the history of our building here at 5 Caledonian Road and its role in radical politics over the past 60 years. '5 Cally Road: 60 Years of Books and Activism' is an oral history project celebrating one building's significant role in British radical politics.
5 Caledonian Road, or 'Peace House', has been the location of many grassroots organisations including Peace News, the Gay Liberation Front, London Greenpeace, Lesbian and Gay Switchboard, War Resisters International, and of course the home of Housmans!
On the Record is an organisation using oral history to inspire social change. They turn the memories of people and places into podcasts, artworks, books, websites and audio walks. Since last summer, On the Record has been working remotely with a group of 25 young volunteers, aged 18-25, to research and document the history of this building and conduct oral history interviews with people whose lives have passed through the building. The volunteers have used this material to inspire short creative responses including soundscapes, verbatim radio plays, queer monologues, poetry, and music videos.

The website is an immersive, interactive experience, where we will premiere the volunteers' creative responses. Visitors will be able to rummage through the works we have created, led by curiosity and chance, evoking the experience of browsing in a bookshop.
RESERVE YOUR PLACE: FOR THE LAUNCH AT www.eventbrite.co.uk/e/159544332393
..and do give the website a visit once it goes live: www.5callyroad.org